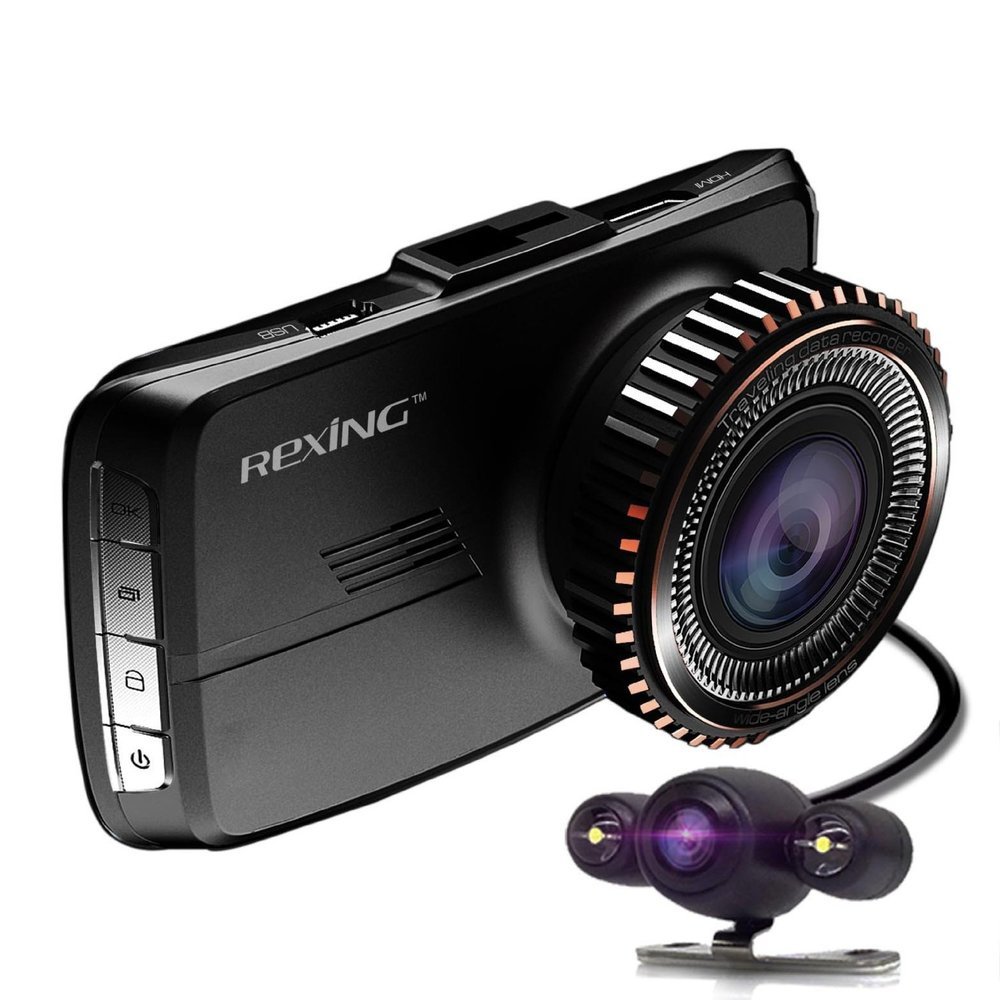 iframe style="width: 120px; height: 240px;" src="//ws-na.amazon-adsystem.com/widgets/q?ServiceVersion=20070822&OneJS=1&Operation=GetAdHtml&MarketPlace=US&source=ss&ref=as_ss_li_til&ad_type=product_link&tracking_id=rexingusa1-20&marketplace=amazon&region=US&placement=B013QDV85S&asins=B013QDV85S&linkId=1a8fad55c57eccd7bbfb25e37f45f171&show_border=true&link_opens_in_new_window=true" width="300″ height="150″ frameborder="0″ marginwidth="0″ marginheight="0″ scrolling="no">
The dash cam dual lens installed, the front one and the rear one(WATERPROOF), which are used to record much more information back and front. To ensure your backing up to be quick but safe, the dashboard camera will alternate to the view of the rear camera and play on the screen. The dash cams for vehicles is humanized designed to release the manual operation which can start or cease video recording automatically with the car's starting up or flame out.

Having passed various rigid tests, REXING HD18 ensures the long-term and steady operation of the car camcorder and guards against shut down caused by some minor faults. Using large-aperture lens and 160-degree oversized wide angle, REXING HD18 is able to record more driving information and misses not a bit of important accident details. With high-ranking main control chip, image sensor and also glass lens of 6 layers employed in car dash camera, night video quality is much better.

With smaller body size and suction mount, REXING HD18 won't block the sight of drivers and will make your driving more secured. The rear camera of dashboard cam has a view of 90 degree wide angle, 4 meters wire for car charger and 6 meters wire for rear camera which are long enough to simplify the installation, to conceal the overlong part to make it more pleasing to the eye.

Designed in compact form factor the HD18 vehicle camera utilizes Continuous Loop Recording, which automatically overwrites the oldest footage when the memory card gets full. It also features a motion sensor for automatic recording while driving, as well as a G-Sensor, which senses sudden acceleration and collisions to automatically capture and protect critical footage surrounding an accident.

Equipped with 3.0-inch HD LCD screen with as high as 960*240 resolution ratio, REXING HD18 is able to play the video recorded by the car camera on the accident spot, convenient for on-site evidence presentation.
Features:* The dash cam dual lens installed record much more information back and front* Enhance video quality at night and helps in capturing minor details not normally seen at night* Start/Stop recording automatically after turning on/off the ignition* Seamless video loop recording to ensure "None Stop" recording in a single memory card* Accident Auto Detection Feature (G-Sensor) can locks data to memory* Press "Emergency Lock" button to save and lock present video in recording mode* Front camera 720P, rear camera 480PSpecifications:* Video Resolution: 720P/480P* Unlimited Cycle Recording: Support* Viewing Angle: 160/90 degree* Memory Card: 8G~32G Micro SD/TF Card(Class 10)* Video Format: AVI* Photo Format: JPGE* Display Size: 3.0 inches LCD* Audio Recording: Support* G-sensor: Support* USB: Support* Battery: 120mAh* Speaker: Built in* Input Voltage: DC 5V* Language: English* Operating System: Windows 2000/XP/Vista 32/7 and above* Operating Temperature: 10 F to 140 FPackage Includes:1 * REXING HD18 Dash Camera1 * Mount Kits1 * Car Charger1 * USB Data Cable1 * User ManualDoes the dashboard camera have a built-in battery?
For safety concern, battery is low capacity to save files in emergency.