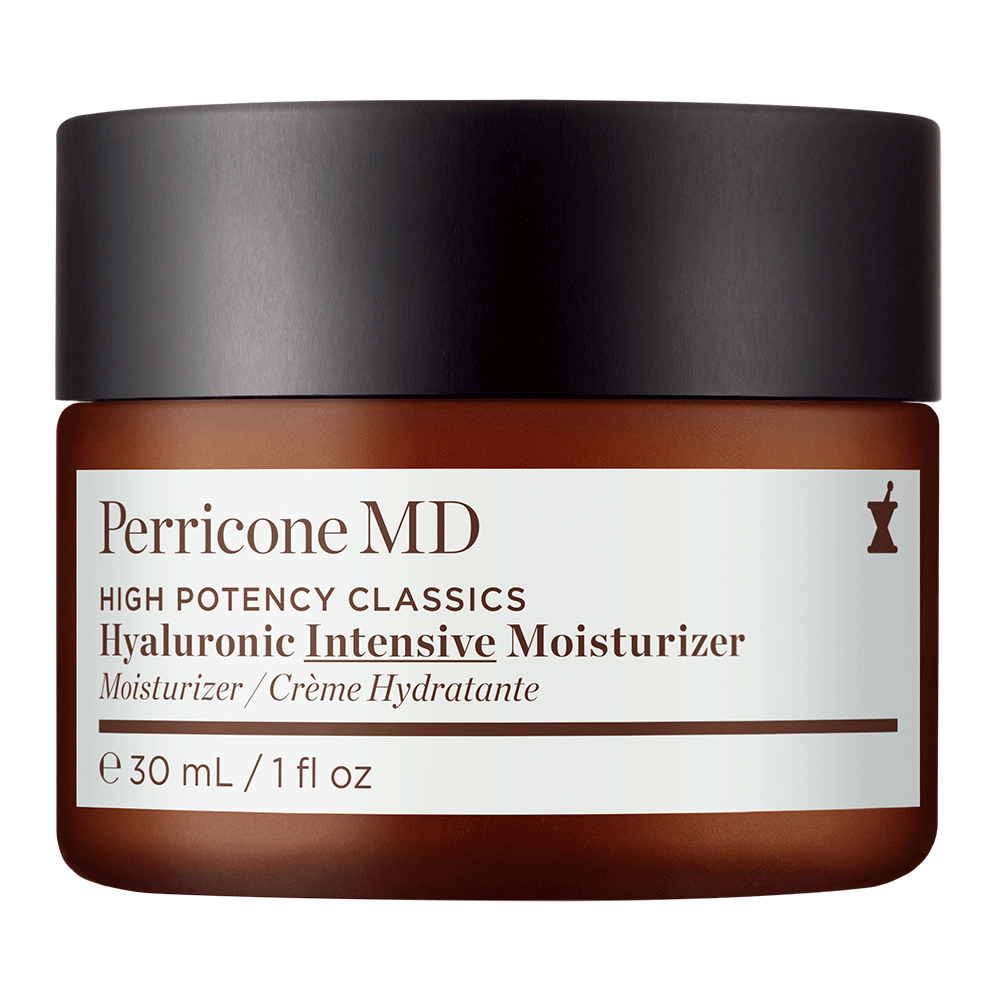 ​Perricone MD – High Potency Classics Hyaluronic Intensive Moisturizer​ 30 ml
Perricone MD's Hyaluronic Intensive Moisturizer, previously named Hyalo Plasma, is an oil-free firming face moisturiser to help address dehydration, loss of firmness, fine lines and wrinkles. Scientifically formulated with three forms of hyaluronic acid: micro hyaluronic acid to help plump skin, cross-linked hyaluronic acid for continuous hydration to reduce the appearance of fine lines, and barrier hyaluronic acid to help prevent moisture loss. Other key ingredients include DMAE to help visibly lift sagging skin, and rosemary leaf extract to help tighten the appearance of skin over time. An intensive moisturiser for all skin types, our Hyaluronic Intensive Moisturizer delivers visibly smoother, more supple skin that looks nourished and revitalised.
High Potency Classics is the first and most tested series from Perricone MD. This series is the foundation on which the brand was built and has received the recognition it has. The series has proven and effective ingredients that have been shown to increase the strength of the skin through clinical trials and seem to minimize wrinkles and enlarged pores. This series is suitable for all skin types and is a complete regimen for firmer and smoother skin.
Application:
On a clean face and neck, massage a small amount using upwards strokesRepeat morning and evening
Benefits:
Intensive hydrating creme from Perricone MDLightweight concistencyInfuses skin with youthful hydrationSmoothes the surface of the skin Minimises the appearance of wrinklesImparts visible suppleness and radianceDMAE instantly firms sagging skin over time and is easily absorbedHyaluronic Acid (HA) provides instant hydration which lasts all dayRosemary leaf extract is a powerful natural antioxidant which helps to tighten the appearance of the skin
Perricone MDThe Perricone MD mission is to offer an intelligent and synergistic approach to more youthful skin and optimal health. Our products are formulated with the most potent anti-aging skincare and supplements at the forefront of skin science, researched and prescribed by Dr. Nicholas Perricone. Perricone MD does not and will never test on animals and are always paraben-free. Dr. Perricone introduced his patented formulations and immediately set a new industry standard for product efficacy with results that often rival more invasive and potentially risky dermatological procedures. This new category, known as cosmeceuticals, has raised the bar of people's expectations for topical skincare. Since 1998 Perricone MD have actively researched how to stop, prevent and reverse the signs of aging and external stress factors on the skin.