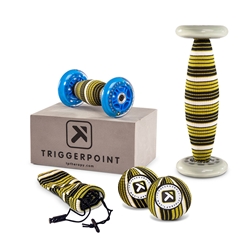 TriggerPoint Performance Collection
The Performance Collection offers a convenient self-care program designed to empower dedicated athletes to improve flexibility, range of motion and tissue strength while addressing muscle tightness. The TriggerPoint Performance Collection is for any athlete that wants to increase mobility to achieve optimal performance. Step by step instructions guide you through easy-to-follow self-massage techniques on twelve areas of the body, focusing on key areas that commonly cause performance limitation in athletes. Digital instructions via video and guidebook format allow you to manage your own therapeutic self-care at home, at the gym, or on the road. Packed with our most comprehensive education, this collection is a complete guide to a self-massage process that simplifies how to reduce discomfort or dysfunction in areas of your body. TriggerPoint offers an Education Video Portal where each Performance Collection owner will be able to access through a personalized code provided when the Collection is purchased.
To optimize function in the body, this kits includes:
Total Body E-Book – A 44-page, illustrated instructional guide that breaks down the 12 most important TriggerPoint releases to help you restore and maintain natural ease of movement.
Ultimate 6 E-Book – A 24-page, illustrated instructional guide featuring therapeutic self massage techniques that target the most common areas of discomfort runners experience.
TP Massage Ball – 2.6″ diameter – a versatile manipulation tool featuring a firm core wrapped in cushioned material for targeted deep tissue stimulation.
Footballer– a firm, compact roller perfectly sized for hands-free myofascial compression of the lower leg and foot.
Baller Block – provides elevation for optimal range of motion and application of pressure when using TriggerPoint products. Also reduces space and houses the Footballer when not in use.
QuadBaller – delivers firm and targeted compression to larger muscle groups, such as the quads, IT band, and hamstrings.
TP2 Ball Sleeve – Couples two TP Massage Balls for even greater leverage to release discomfort and address pain points, particularly in the lower, mid- and upper back.