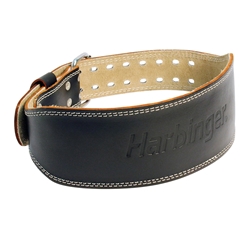 Harbinger Padded Leather Belt Medium
Designed for medium to heavy lifting, our 4″ Padded Leather Belt contours around hips and ribs to maximize midsection fit. This design supports your back while engaging abdominal muscles, both critical in helping prevent injury. The belt's interior foam cushioning maintains muscle warmth, while the suede lining grips your clothing with no slippage. We chose a heavy-duty double prong steel buckle with seamless roller, so belt closure tightens down with minimal effort. Black. 4″W.
Features:
Foam cushioning and suede lining for comfort
Supports back for medium to heavy lifting
Double prong steel buckle
4″ W
Black
Sizing
When purchasing a weight lifting belt, it is important to measure yourself correctly for the right size. Weight lifting belts are designed to be worn tightly around the waist. The more secure the belt, the more support and stabilization it provides.
DO NOT use your pant size to determine the size of your belt.
Use a tape measure around your waist, circling around starting and stopping at the navel/bellybutton