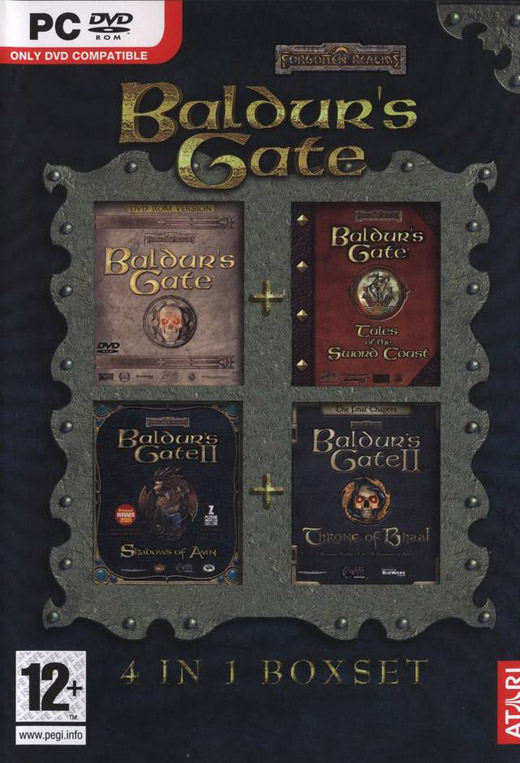 Baldurs Gate Compilation (1+2 + adds)
"Baldurs Gate + Baldurs Gate: Tales of the Swordscoast + Baldurs Gate II: Shadows of Amn + Baldurs Gate II: Throne of Bhaal
Baldur's Gate:
Chaos threatens to overwhelm the Sword Coast. The state of Amn is under siege to the south, the High Moor is being overrun in the north, and the region around Baldur's Gate is in turmoil. The player starts the game with one character. This character can be generated using any of the races, classes, and alignments allowed by Advanced Dungeons & Dragons. Up to five other adventurers may join the central character as the epic quest proceeds. The player begins in the glorious castle of Candlekeep, an orphan seeking self-knowledge.
Tales Of The Sword Coast:
Continue your travels on the Sword Coast with the next set of adventures in the award-winning Baldur's Gate roleplaying game series. Legends of treasures lost and monsters to be defeated abound in the region. Almost all have at least some basis in truth. Are you up to the task? Will you return with even more fame than you accumulated in your previous travels? Or will you journey off, never to be heard from again the source of your own legend, in turn?
Baldurs Gate 2 – Shadows Of Amn:
Baldur's Gate II: Shadows of Amn is a mythic saga continuing the much-loved Baldur's Gate storyline. The Forgotten Realms adventure ensues along the southern portion of the Sword Coast in the merchant kingdom known as Amn. The borders of this region include such diverse environments as the Elven forests of Tethir, the Cloudpeak Mountains, The Drow cities of the Underdark, and the Capitol City of Amn, Athkatla.
Baldurs Gate 2 – Throne Of Bhaal:
Baldur's Gate II: Throne of Bhaal takes players through an all-new storyline rich with intrigue and treachery as they unravel the mysteries of the Dungeon of Watcher's Keep and explore other new areas such as the City of Saradush, the Fortified Monastery of Amkethran, Sendai's Underdark Fortress and the player's own Planar Stronghold.